Meet Dr. Donald Peters
Mayes County Chiropractor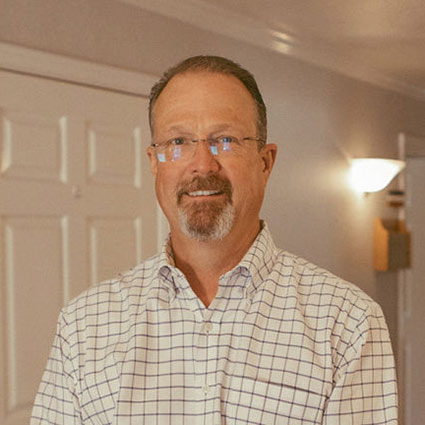 By the time I was 13 years old I weighed all of 85lbs. I was on cough medicines, allergy medicines and had many shots of penicillin. At times, it was a struggle for me to even get to play outside. You see when you give a kid all these drugs you either make him dull to the world or hyper to it. I was hyper to it and my parents put the extra energy I had into various sports. I had injured my lower back and hip doing the long jump during the junior high tract meet. It hurt so bad I could hardly walk. My mom suggested a chiropractor because she knew I could hardly stand another shot. Well, I didn't get shots and within a few short weeks I was running and playing without pain. Over the next 5 months chiropractic changed my life forever. I gained 25 pounds and no longer needed the drugs to breath. I then knew this is what I was destined to do.
Chiropractic Education
I choose to go to the same chiropractic college as the chiropractor who changed my life. Dr. Edward Riffel, DC. Though Dr. Riffel is now retired he changed the lives of many people and I owe him my humble gratitude for inspiring me to pursue chiropractic as a career. I graduated Magna Cum Laude from Cleveland Chiropractic College in 1989. I pursued post graduate work in Disability Evaluations and was appointed by the State California to do Qualified Medical Evaluations to injured workers. I have studied extensively about preventative health and human performance and have sat as a Board member for Adair Schools Health Council. During the 16 years I practiced in California, I was the team chiropractor for Atascadero High School. In 2005, my lovely wife Denise and our four children decided to move to where our family roots began, here in Pryor Oklahoma. Moving has been a great blessing to us and we just love it here.
The purpose of Peters Family Chiropractic Center is to change the health of our community by improving the health of as many people as possible. Using the most advanced chiropractic technologies and methods available today we pride ourselves in helping people establish their own health goals and providing ways to meet them. When an individual improves their health and maintains it, this affects our community by reducing the need for expensive medical procedures. Our most satisfying moments are when families begin to work together to improve their health. When the human body is functioning like the good Lord meant it to, you or a loved one can be at their best. This is what true preventative care is all about, building up health to prevent a disaster. Instead you can wait until the disaster happens then try to repair things that may or may not be able to be repaired. It is always cheaper to maintain your car then wait until the engine fails.
Chiropractic is also about helping people with their health problem without the use of drugs or surgery. There are times when those things are necessary and we will help you get to the specialist you need when we can't help.
I have the greatest family. My wife, Denise and I met in college in 1984 and we were married in 1987. We were blessed with 4 beautiful daughters who are unique individuals of extraordinary talent. Denise and I were fairly athletic people. When we met, I was playing on the baseball team in college and she was on the swim team. We had pretty successful athletic careers but nothing compared to our children. At least we don't think so. Between them they have 4 Oklahoma High School State Championships, 3 state runner-ups awards and our youngest is the FCCLA Oklahoma State Vice president. We are very proud of them and the young ladies they have become. One of our favorite places in the world to go to is White Pine, Colorado. It is a small mining ghost town that Denise's grandfather built a mountain cabin on years ago. This place has been kind of an oasis for our family, no TV, no phones, just us and God's beautiful creation. A fly rod and a few 4 wheelers too!
Since my first experience with chiropractic at age 13, I haven't been without a chiropractor. I get regular chiropractic checkups and adjustments to maintain a healthy spine. My wife and kids have been under chiropractic care for as long as they have known me. My children were all checked while still attached to the umbilical chord. They all received regular care along with my parents who live here in Pryor near us. In our house, we think chiropractic first and drugs and surgery last. This has saved us a lot of pharmacy bills over the years. Another thing that we like to do is eat. Eating is one of the greatest pleasures on the planet and one of the biggest factors of health. What you eat is what you are, so the Peters family eats pretty healthy. My kids have grown up eating their vegetables and not drinking much pop. You should ask them sometime about natural pop and no TV!
Ready to Get Started?
Enough about me! How can we help you? Are you in pain or do you have a health problem you're wondering if today's safe and natural chiropractic care can help. Contact us and let's arrange a time to explore your options!
---
Dr. Donald Peters | (918) 825-1151