Dr. Alexandria Robart
Mayes County Chiropractor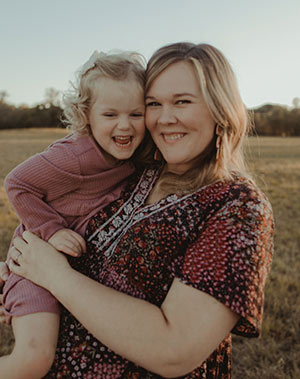 My name is Dr. Alexandria Robart. I have had chiropractic care throughout my entire life by my father, Dr. Donald Peters. However, it was not until my mid-twenties that I truly understood what Chiropractic encompasses and what an incredible tool for health it really is. As an athlete in high school and into college, chiropractic helped me perform better, getting through the aches and pains of pitching multiple games in a day.
Education and Training
Upon graduation with a master's degree in Sport Administration from Southern Illinois University, I had every intention of working in athletics of some kind but as fate would have it, my dad offered me a job as a Chiropractic Assistant while I was looking for my "real" job. It did not take long for me to realize that Dad's job was so much more than just adjustments. Watching people come in unable to stand up straight and walk out with their head held high smiling ear to ear really changed my outlook on Chiropractic.
My own experience with chiropractic happened within the first few years of being married and struggling to conceive. I had been to a few doctors to find out I had PCOS and my chances of getting pregnant were slim due to other complicating factors. I did not immediately share this with my dad, but when I finally did, he told me everything was going to be fine, and he started adjusting my low back and hips 3 times a week. One month later, I was pregnant with my son. Within the next year of having my son and watching healing after healing happening before my eyes, I knew I wanted to be more than just a Chiropractic Assistant. I wanted to be able to help people get better, so with a one-year-old in tow I went back to school to become a Chiropractor. Hands down one of the best decisions I have ever made.
After graduating from Cleveland University-Kansas City, I came back to Pryor to work alongside my father. Over the past few years, my husband and I were blessed with a set of twin girls who are as adorable as they are mischievous, fearless, and full of laughs. They love to keep their sweet and strong older brother on his toes. Most recently we welcomed our last sweet baby boy to the family. The older ones adore him, and he truly completes our family of 6 in every way.
On a personal note…
As our new adventure begins, I wanted to take a second to say thank you to the friends and family that made my journey possible along the way. Without my friends and family, I would not have been able to accomplish any of this; let along get to help, heal, and serve as many people as possible. It has been a pleasure serving the community here in Mayes County thus far and I am looking forward to providing care for many years to come.